Recently on 'Darkblock Presents,' we sat down with Ms. Gekko and Grebflow, metaverse consultants and co-founders of @g3connects and @grebgekkgallery. We talked about their 9-to-5s vs. 5-to-9s, curation, advising, and the future of the metaverse. Watch the full interview here or continue reading for our recap! 
Darkblock: Tell us who you are and what you've built? 
Ms.Gekko: In real life, or as we say our 'alter egos,' I am Mandy and I'm a CPA by trade. I've been in the accounting industry for about 20 years. That's the nine to five and then the five to nine is in web3. We got started with a company called VeVe, and that was where we collected our first NFTs/digital collectibles. We moved into OpenSea, started collecting on Tezos, opened an art gallery, and here we are today—'G3 Connects,' connecting people in web3. 
Grebflow: I am Grebflow online, I am Jennifer in real life. My nine to five is an attorney by trade. I work for a federal judge here in Los Angeles. As for the five to nine, let me go back and tell you how Mandy and I first met.
VeVe is what brought us together. We both found VeVe around the same time. My brother and I were investing in cryptocurrency, we found the token that VeVe works with, which is called the Omi Token. He came to me and he says, 'look at this project…they have an app, they have all this IP, and they're gonna be working with DC and Marvel.' So I ran into my teenager's bedroom and shoved the app in his face and said, 'don't you think this is cool?' And, because he's a teenager, by law he's required to shrug and kind of make a grunt. So he did. And I said, 'let me rephrase this, don't you think other people will think this is cool?' And he said, 'Oh yeah, they'll buy it up.'
So we both independently did our own research…we both saw this would be hype. Mandy and I were two of some of the founding women of VeVe and we decided to create a group where, though it was inclusive of both men and women, it was specifically founded to welcome women into the NFT space. To have a safe place to land, ask questions, be comfortable and confident. We started doing livestream videos interviewing people on the VeVe team and sharing with the community.
We eventually got introduced and we became fast friends.
Tell us about the transition into the metaverse.
Ms.Gekko: When we started to look at the metaverse at the beginning of the summer, we were trying to take the Tezos artists [we had been supporting and collecting from] from regular shilling on Twitter spaces or just having a profile on Objkt to bring them into OnCyber and show them how to set up galleries. But now we're bringing them right into the metaverse. So they're gonna start with that immersive experience and have the ability to promote and advertise in a brand new way that we've never seen before and on a global scale.
G3 Connects is your company, who is your audience? What is your product?
Ms.Gekko: That's a really good question. We dabble in pretty much anything that has to do with web3 and the metaverse. The most frequent types of people we have conversations with are artists. We bring them into the gallery…either we set it up for them or we give them the tools to go off and make it on their own. Once they get their head around, 'Okay, here's my gallery, what do I do now?' That's where we come in. You have to sit down and figure out what is going to drive you and others to spend time in the metaverse. 
The other group is the Twitter Space tech people. These are the people we talk to every day. These are the crypto and NFT people. We say, 'don't you want somewhere to show your NFTs off?' Or 'Come in and see what I'm doing?' That's where we've gotten a lot of traction. 
Grebflow: Our business connects all of the spaces we work in…the gallery, the fashion, the meeting with artists who are onboarding from the physical space…they haven't even come into the NFT space, right? They want to know what blockchain do they mint on, how many NFTs do they mint? What's the price point they should have? Where are we in this climate, in the bear market, where should that land? There's a whole host of questions that we have when we meet and consult with them. And so when you try to nail us down, you're not going to be able to. If you ask us next week, we're gonna add something else. We're very open. 
You've built almost a yellow pages of the metaverse…
Ms. Gekko: Yes, so we've got meta event planning, art, music, wellness, gaming, education. Plus, at the middle we have the hub, which is the calendar of events. This is basically anything that we know that's going on in web3. We encourage people to reach out to us. So if you are on Twitter and you have something to promote, please reach out to us. We want to give back to a space that has taught us so much. We have learned that it's trial by fire. We have paid our tuition through monetary loss, asset loss, sleep loss, all kinds of things. It gives us a very unique perspective. Coming from the accounting side and the legal side, that's where we can also build our own contracts and financial statements. In a couple of years, look out for a legal and accounting firm in the metaverse.
What is your take on Darkblock?
Ms. Gekko: Do you know that gif on Twitter of Jonah Hill going…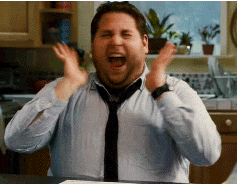 Yeah.
We are avid NFT collectors. There has to be utility. The unlockable part is a must have. When Grebflow talks to artists, she has to talk very frankly about mint sizes, prices. She explains what is selling and for what amount. She doesn't hold back. But one of the things that we can recommend is 'add utility.' That's where the unlockables come in…We have so many environments that we wanna be able to rent. We also have so many incredible pieces of art that maybe you don't want to spend a hundred dollars on, but you want to rent that piece of art to show at your party for a night. Once that is available and the masses come, we will be ready. That will be our income stream. We're not going to wait to start when that's possible. We're going to be ready to turn the key and open the door. 
Tell us about the web3 space.
Grebflow: Everyone's working together. Not everything has to be a money grab. It's about relationships…I have access to folks who are willing to help, who can help, who want to share ideas. And it's not about stealing and trampling over each other. There's a different vibe in this space compared to the competitive worlds that we each come from. Especially women in those competitive worlds where we're fighting even harder to stay on an even keel with men. We hear the whispers of women in web3. Let's onboard more women and allow this space to be where women shine. We're [women] known for making those connections and bringing people together. 
Any advice?
Ms. Gekko: What I always like to close out with is this: challenge yourself to figure out what your role is in web3. Don't wait for things to happen and say, 'oh, I could do that.' Do it and do it now. 
Big thanks to Ms. Gekko and Grebflow for taking time out of their jam-packed days to sit down with us and chat about the metaverse. We love what you are doing for the space and are excited to be in your corner! 
Tune into Darkblock Presents every Thursday on Youtube Live and make sure to send us your questions, topics, and guest suggestions!